A little piece of local history today from a story related to me by an elderly neighbour and family friend in Redhill many years ago who is sadly, no longer with us. It concerns a Mr. George Brough, the owner of the Brough motorcycle company of Nottingham, manufacturers of the legendary 'Brough Superior' motorcycle. George significantly at one juncture also held the world speed record for the motorcycle of around 130mph. Bikes ran in George's blood as his father, George senior had developed the Brough name into two-wheeled legend and passed the business on to George junior.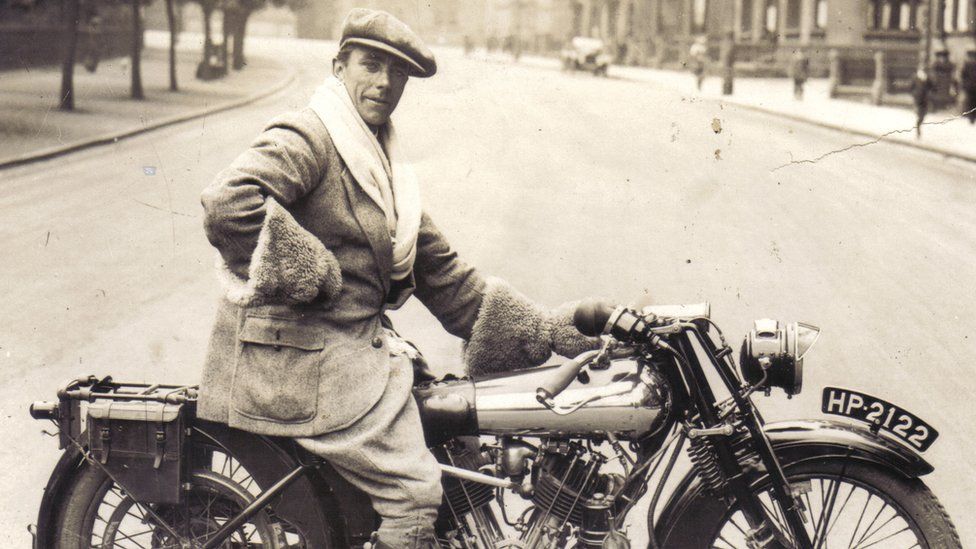 George Brough. (Image: bbc.co.uk)
Just around the corner from my home in Redhill, Nottingham is situated a small cul-de-sac enshrouded in trees called Pendine Close which is accessible directly from the main A60, Mansfield Road. The close contains a small handful of good-sized homes which were built, on memory, in the 1960s. An attractive address and situation certainly but seemingly otherwise unremarkable, However, it's the very large original home at the end of the close, 'Pendine House' in what was originally its own land, that is of interest being the former home of George Brough.
Pendine House was named by George after Pendine Sands, the seven-mile long beach on the shores of Carmarthen Bay on the south coast of Wales. This was the area famously chosen by Brough for his motorcycle record attempts.
Interestingly, it was said that George was connected with some extremely well-known friends due to his fame in the motorcycle industry of the day. My late friend and neighbour related to me that none other than Irish playwright and critic, George Bernard Shaw was a friend of Brough's and a regular visitor to Pendine House. He also told tale, quite casually, that George was a friend of the then boss of 20th Century Fox and thus counted several top Hollywood movie stars as friends who became visitors to his attractive home in Redhill. One quoted to me was the huge star and master actor, Orson Welles, who was apparently a good friend of George.
Visitors: Welles and Shaw
Another famous name, and a well-known association, was T. E. Lawrence, the famed 'Lawrence of Arabia', who would visit Redhill and take Brough Superiors for a high-speed spin around the local country lanes. It is recorded that Lawrence died on a Superior. It is fascinating to me to conceive of these world figures as visitors to a home a minute or two from my own front door.
According to Wikipedia (no written evidence available) George Brough attained the world record in 1928 in Arpajon, France. The same source offers the following about Lawrence's demise:
"A few weeks after leaving the service, aged 46, he was fatally injured in a motorcycle accident in Dorset, close to his cottage, Clouds Hill, near Wareham (now run by the National Trust and open to the public). The accident occurred because of a dip in the road that obstructed his view of two boys on their bicycles; he swerved to avoid them, lost control and was thrown over the handlebars of his motorcycle. He died six days later."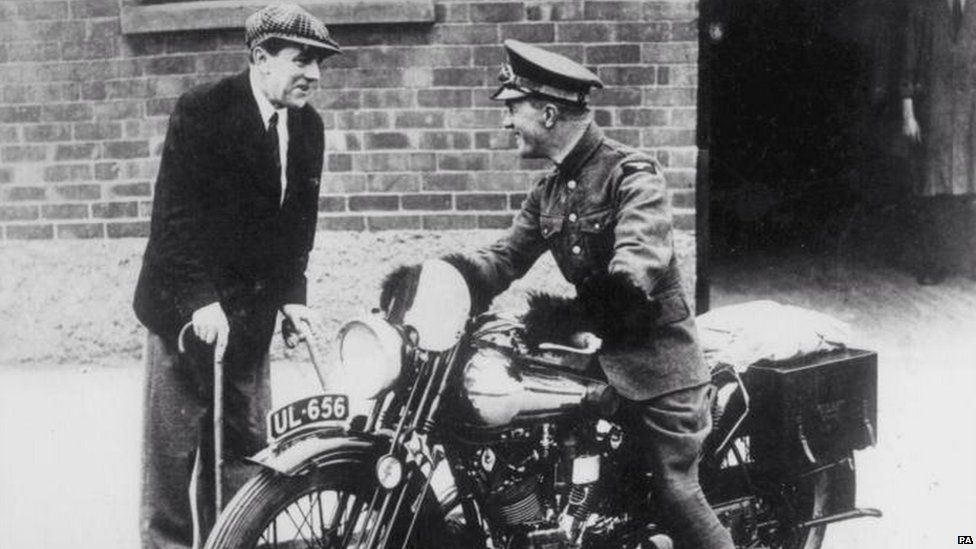 George Brough (standing) chats with T. E. Lawrence 'Lawrence of Arabia' outside his motorcycle factory on Hayd Road, Sherwood, Nottingham. (Image: bbc.co.uk)
From available sources, it appears that George Brough, described as a 'larger than life' character, led an exciting and colourful life before passing at seventy-nine years old. Fame, fortune and furiously fast motorcycles were his life. He certainly brought a little colour into the local community in Redhill too.